When I was working as a scientist, I realised that there was great disparity between the information you could find in peer reviewed journals, compared to the information you can find in public.
But the thing is, scientists like you and me are just like anybody else. We still use google and social media, except the information we want is lacking or just not as readily available. And that's simply because scientists are just not as good at marketing themselves.
In this post, I'm going to discuss some ideas so that you can start networking as a scientist, share your existing scientific knowledge and even build yourself an invaluable reputation outside of your day-to-day colleagues. And this is true not only for chemistry, but for all science in general.
Science Communication Using Social Media
Let's start with an easy one.
The likelihood is that you are already active on the major social media platforms; but just how much do you use it for your profession?
Once you know where to look, finding subjects and topics that other scientists have in common is fairly simple. All you need to do is get asking and answering questions or getting involved with the online discussion.
Twitter has a great search engine that lets you look for keywords or hashtags.
Knowing that #scicomm (short for 'science communication') is a relevant hashtag to start investigating, using a simple tool called hashtagify.me, I can look for similar keywords to get involved with, this gave me the following: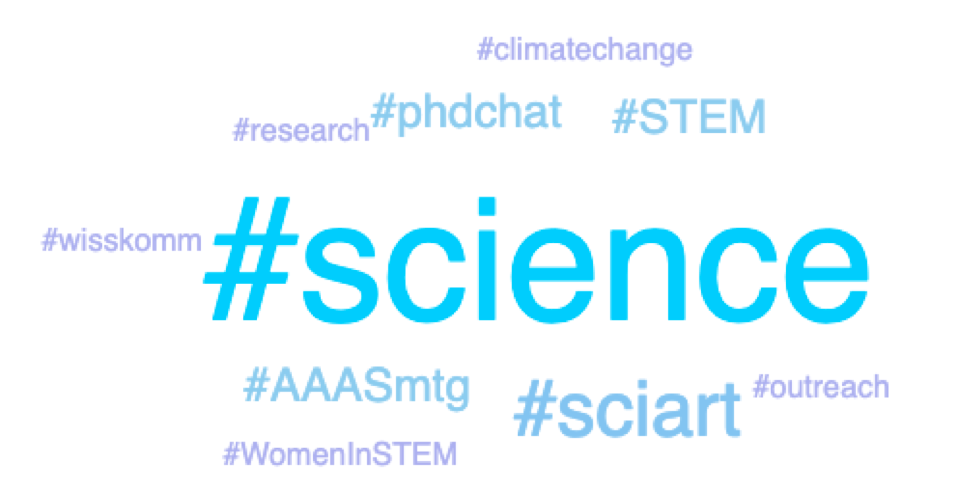 You can even find other scientists or other accounts that tweet solely on similar subjects, something that is more relevant to your field or interest.
Linkedin is a more 'professional' social media account to use. But apart from making connections with people you already know or wish to reach out to, there are endless groups that discuss topics of choice.
Reddit may not be the first social media channel that comes to mind, but there are massive communities there ready to get involved with the discussion.
r/chemistry has almost 1 million followers, r/physics has 1.1 million followers and r/biology has a massive 1.7 million followers.
That's not even scratching the surface of the niche science subreddits; go over and find a conversation to get involved with!
Get Involved With The Public
With the ongoing interest in STEM subjects – especially amongst girls – getting involved with public engagement opportunities is easier than you might realise.
The concept is simple – you take cool and exciting scientific principles and share them in a fun and interactive way. Usually your target audience is young children, but you can engage with anybody that is willing to take part!
Finding opportunities is relatively easy; University and employers often run schemes or opportunities to get involved. But if not, a Google search will show other opportunities in your area.
Speaking Amongst Your Peers
Speaking publicly induces fear into many of us, but demonstrating your ability to others in your field can be highly rewarding, both personally and professionally.
Start small; take an opportunity to speak amongst your work or university colleagues. You don't need to make a big event about it, but take opportunities to openly discuss successes and failures you've worked on, or any relevant scientific news or research you have recently discovered.
Speaking in front of people is definitely a skill; once you're comfortable with small audiences and people you know, you can work your way to bigger and more experienced audiences.
Write For Relevant Websites
If you're not much of a public speaker, writing may be more your thing – saying that, your potential audience has just got magnitudes bigger.
There are plenty of websites and blogs out there that will allow scientists like you to write about their knowledge and expertise.
All you have to do is a google search to find relevant topics. Try searching for the below phrases or tweak them yourself to find a blog suitable for you:
'Science + guest post'
'Science blog write for us'
'Guest science writers'
Find a relevant website and get in touch with them. Introduce yourself – your scientific credentials and areas of knowledge – and ask for the chance to write a post.
You will usually get these posted with your own name as authorship and give you the chance to share your articles with your new social media audience, as per my previous tip!
Start Your Own Blog
If you want to go all out to promote yourself as a scientist as well as build the reputation of your community, why don't you write a science blog?
Starting your own blog is a sure-fire way to get noticed in your industry, and is likely to build up an enviable reputation.
But you don't have to keep it to yourself. Create a page to allow guest bloggers – as mentioned above – and further grow your network and allow your blog to become bigger and better.
Although all the points I have mentioned in this post so far will build up your science network, nothing will sound as impressive as running your own website.
Conclusions
At the end of the day, being a better science communicator is all about getting involved.
There are plenty of people in the world that don't have the same professional or personal experiences you do, so you always can always find opportunities to ask for help or even give out your own advice.
Ultimately, good science comes from the power of discussion. You do not always need to agree with somebody else's opinion or theory, but finding opportunities to get involved is always beneficial.
For many, imposter syndrome prevents people taking the first step to building their network. If this is you, start with some of the tips I've mentioned above that sound the easiest, and work your way. Remember the 1% rule; improving by 1% every day will make you 37 times better in just a year.
If you have any questions, do not hesitate to leave a comment below or get in touch with me directly via the details in my author bio.